WORLD MENTAL HEALTH DAY: "MENTAL HEALTH IN WORKPLACE"
---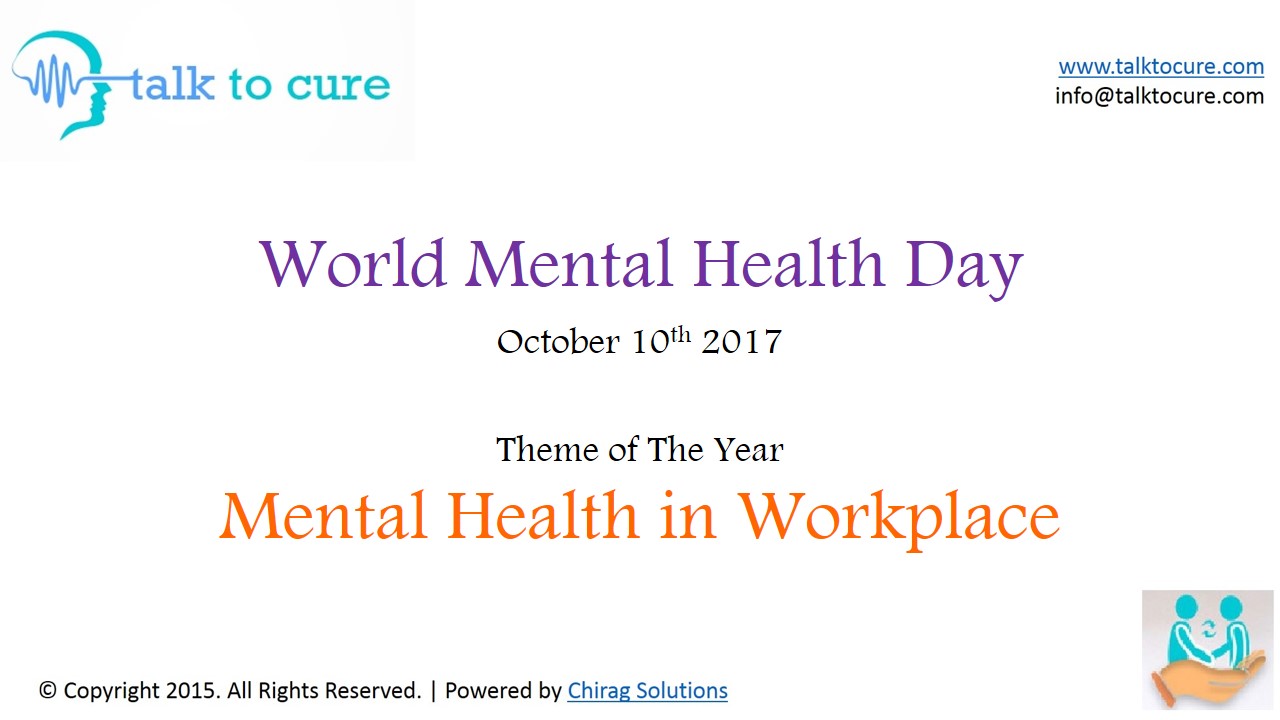 World mental health day; a day devoted to advocate mental health issues and spread awareness about them globally. The initiative to celebrate this day was taken by world federation of mental health in 1992 and October 10th was specified as world mental health day. Since then, every year different themes are taken to celebrate this day and make people aware about various mental health aspects. This year the theme has been chosen as "Mental Health in Workplace" to educate people about maintaining good mental health as well as work life balance. Following are some of the ways to it effectively:
Manage Your Time:Time management is very important in order to maintain work-life balance. Make a time table for work and personal activities and stick to that. Try to follow your schedule as much as possible. Emergency needs are sudden and there should be room for them always.
Manage Yourself:There is a connecting point between your personal and professional life and that is "you". Yes, take out some time for yourself like exercise, yoga, meditation, enjoyment, entertainment, exploring hobbies, performing pleasurable activities etc. In order to have a balance between work and family one need to have a balanced self.
Set Targets & Prioritize Work:One needs to know that what is urgent and what is important. Make a list of all your tasks and divide them on the basis of urgent and important. Tasks that come out to be higher in hierarchy need to be taken first and subsequently others targets can be worked upon. Give yourself a deadline for every task and make your best efforts to finish them on time.
Use Technology & External Aids:Now a days everyone is technology friendly and every person working in either private or government sectors knows how to operate a computer or a smartphone. If not, one can always make a "list to do" in their personal diaries. Sometimes we forget our important matters due to our over committed work schedules. In that case computer, smartphone or personal diaries can be your best friends to give reminders on your commitments.
Make Hectic Things Enjoyable:Taking small breaks, having a brief light discussion with someone, having a cup of tea or coffee, taking a quick walk, all these things are applicable in both family and work environment. These small activities' can light up the environment and make your hectic tasks enjoyable and easily achievable as well.
Always Mind the Thin Line between Personal & Professional Life:Our family and work are equally important and one must maintain a decent gap between them. The moment you leave your home for office, leave all stressors there only because carrying them with you is only going to worsen the situation. When you are in office you cannot do anything about them; they will make you unfocused on your official works rather. Similarly, the idea should be implemented on your work stress also. When you are free from your work, be free from the work stress as well.
Understand Difference Between Commitment & Over-Commitment:We all have certain commitments towards our work and family; however, there is a thin line between being committed and over-committed. Make commitment based on your efficiency and ability to fulfil them. Emergencies are exceptional and they are always welcome but this should not be a regular pattern either for your work or for your personal life.
Learn To Say NO:Never say yes to the things you don't wish to do. We keep saying yes to every task given by others having a thought that they might feel bad if we say no. it is just an assumption that others might feel bad; however, there is a possibility that they may not feel the way we are thinking. Also, learning to be assertive is always a good thing. It prevents you to feel burdened and other negative outcomes of the work you do under pressure or against your wish.
Watch Your Eating Habits:Eating habits are an important part of work-life balance. One must include healthy diets in routine meals and avoid junk foods. It is said that healthy mind lives in a healthy body. By eating healthy you not only benefit your physical health, you also maintain your mental health and your working capacity as well.
Watch out Your Health:One should have regular health check-ups of oneself and family members as well. This prevents you from emergency conditions and also work as an alarming situation of future health problems. Your good health makes you perfect for maintaining work-life balance.
Not only the employees but it is an equal responsibility of the employers to keep their employees stress free. Asking about their personal worries, education of children, family responsibilities, leave plans, health issues etc. are some of the small things that can help in building good employee-employer relationship. Having small get-together after work hours, listening to employees, having good and healthy discussions, offering help when needed really helps to create a light environment at work place and now a days it is much needed in the organisations. Owing to this, many organisations are offering EAPs to their employees and it has been found to be really effective to serve the cause.
If you have any queries related to this article or any other psychological/mental health issue feel free to write me back at info@talktocure.com
Neelam Verma
Consultant Clinical Psychologist
Talktocure!